Take Home Fresh Arroyo's Tortillas!
Arroyo's Cafe Famous Tortillas Available!
Our home-made tortillas are available for take home/carryout orders!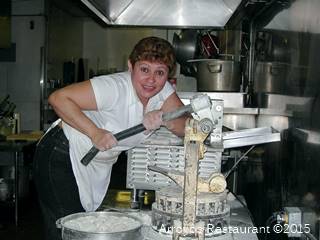 Fresh tortillas, made in the restaurant, are an Arroyo's Cafe tradition. Did you know that you can bring some of those soft, fresh tortillas home so as to enjoy them with your home cooking?
In the old days, Arroyo's patrons could sit at the counter, or almost anywhere in the cafeteria ad watch as the fresh tortillas being made. If you timed it right, you could grab a few tortillas, slather them with butter, and enjoy them warm!
Our tortillas have always been hand – prepared with love. Our ancient machine, kept running with various spare parts from around the world, does the shaping! That old machine is still part of the process that makes every Arroyos Cafe and Cantina tortilla! You may no longer see it in action, but we promise you that in our kitchen, the big machine is still shaping our hand-prepared tortillas!
Our location may have changed, but our tortillas are still made the same way!
Built back when Arroyo's Cafe was first opened, our tortilla machine is one of a kind!  A combination of love, ingenuity and good luck keeps the tortilla machine running!
So whether you want to call ahead for your order of home-made Arroyo's tortillas or just add on an order when you come to dine, just take some home! We think we still make Stockton's best, fresh tortillas!
Call Arroyo's Cafe and Cantina at 209-472-1661 for faster service for tortilla pickups!