Arroyo's Cafe – Seventy Four Years of Stockton History
Our family has been been serving your family fine Mexican food for over seventy years!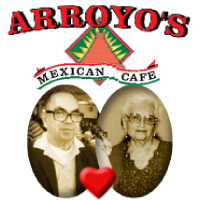 Jesus and Guadalupe Arroyo were born in a small ranch of San Guillermo in Guanajuato. As a young man Jesus moved his family to the city that never sleeps, Mexico City.  By the early 40's he moved again, this time landing in the small port city of Stockton. Here, they opened their first Cafe  in 1946. It was called "El  Rancho Grande". In 1955 they opened the first Arroyo's Cafe,  fondly nicknamed,  the "Bean Palace" by many of Jesus' customers at the 67 North Center Street Establishment.
Arroyo's Cafe & Cantina – Growing With Your Families And Stockton!
As Stockton grew so did Arroyo's. First to 29 South California Street, then to 324 South Center Street where it stood for 29 years. Many remember the large, cafeteria that was home to Arroyo's.
In 1999 Arroyo's established its new home at Quail Lakes.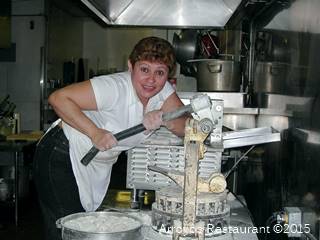 Times brought about changes and we had to move. The short story is we ended up with an awesome restaurant that sits beside Quail Lakes. Here we still pay homage to Arroyo's Cafe history as a place that welcomes everyone. As with the old building on South Center Street, you can still pull up a stool at the counter. You might be able to see the old machine cranking out Arroyo's home made tortillas, but it is still here. You can still order the simple fare that we have served for decades. We might have some fancier menu items, but you can still order up our burritos, quesadillas, and tacos ala Carte!
Arroyos has been successful because of hard-working people from Stockton!
Arroyo's longevity is thanks to the hard work of people like, Güero Carlos, Pepe Soriano, Chavela Navarro, Jose Luis Cervantes, Paty Lopez, Virgina Ramirez, Sandra  Casarrubias, Martha Sanchez, Toño Banuelos, Gloria Aguilar, Gloria Cabrera, Juan Ramirez, Rosie y Claudia, Guille Cardenas, Ramon Vargas, Angel Alcantara, Chuy Villalvazo, Reno and countless others. Many of our former employees have gone to open their own businesses, but we thank them.
We love Stockton and all our customers
Like a pyramid needing a strong base to continue, Arroyo's success has come from generations of customers who have dined at Arroyo's. For 70 years, Arroyo's Cafe and Cantina has been blessed with generations of loyal customers. We have laughed, danced, celebrated, and sometimes even cried with our family of patrons. We do not take your patronage for granted.
A loving thank you from Arroyo's
We would like to thank our great patrons for their support of the Original Arroyo's Cafe. Welcome and we look forward to serving you now and in the future. May you enjoy your next visit to Arroyo's Cafe!